Media & Entertainment
Raising the Bar on On-demand Video Application and Streaming Media Testing
As consumers shift from linear television to OTT video services, the demand for high-quality streaming platforms and products means daunting challenges and increased competition for providers. The evolution of OTT, SVOD and streaming services is driving development across a complex mix of devices. Online video consumption is surging from Smart TVs, Apple TV, Roku, Chromecast and game consoles. Consumers demand a seamless, multiscreen viewing experience across every device, every time — which makes on-demand video and streaming media testing all the more essential.
Optimizing Customer Engagement with Knowledgeable Streaming Media Testing
Our OTT tests are performed on a large variety of platforms: Android TVs, AppleTV — Generations 2/3/4, Roku, FireTV and Xbox360.
Our test techs and engineers are experts in the iOS and Android OSs, emulators, integrated development environments, and automation frameworks.
Flexible QA Support
You get the test services you need, when you need them, and you can rapidly scale the team without cost penalties.
We integrate our efforts directly with your Agile teams to provide QA support for Continuous Integration and Continuous Release of your code base.
A High-Quality Streaming User Experience Is Critical
With the rise in OTT consumption, providers are scrambling to develop high-quality, on-demand delivery platforms that create reliable viewing experiences. You need application testing to ensure buffer overflows and underflows, lost packets, interface control glitches, and a host of other problems don't quickly compromise the user experience you provide. Be sure your users' experiences are positive with on-demand video and streaming content testing.
User interface updates must be glitch-free to delight and engage customers
Content delivery has to be properly replicated across the wide array of your audience's devices
Your program data has to successfully navigate the web under a range of traffic load conditions
Product selection and background billing processes have to be transparent and always accurate
Interactive presentations require prompt responses to each user input without network delays
We didn't know at the time how well setting up the evening shift was going to improve test throughput. It has really been successful in helping increase capability to speed releases; great call on your part to move forward with this.
Safeguard Your Brand with Smart Software QA & Testing
Want to learn more about how our QA and testing services can safeguard your brand? Contact us to find out how we can improve your QA ROI.
CASE STUDY
Web Services Testing with Functional Verification
QualityLogic supplemented this entertainment-industry company's internal QA function to verify the functionality of its Adobe Flash-based front end and ensure that constantly changing content was correct for the specific release.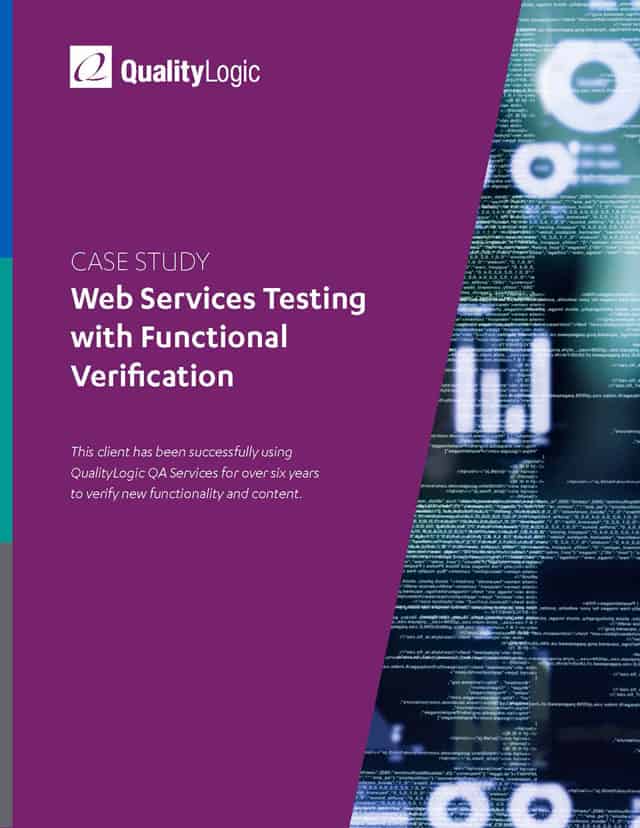 Testing Solutions and Platforms for Media and Entertainment