Virtual and Augmented Reality App Testing and QA Services
Increase User Adoption Rates with Virtual and Augmented Reality Testing Services
Virtual and Augmented Reality applications present major testing challenges. Because it's unsuitable for automation, the manual testing process can be physically draining, and it is uncharted territory for many QA companies. Our VR/AR test team is made up of hand-picked QA engineers and testers that are able to stand up to the physical and mental testing pressures.
How We Test Virtual and Augmented Reality Applications
QualityLogic works closely with you to determine the scope of work, deliverables and timeline. All work is done in the U.S. to avoid time zone, language, and cultural barriers. We define milestones and clear deliverables in an expert solution that is tailored to your operation:
We built our team with folks who are less sensitive to VR sickness so you get the testing you need, when you need it
We have a team of VR/AR specific test case writers to maximize the effectiveness of our testers
Our protected VR testing station allows our engineers and testers move without fear of being hurt
We test on the latest hardware or your own equipment if you prefer
Coordinate our efforts with your agile development process to optimize release velocity
QualityLogic improved our approach to QA testing, helping us rewrite hundreds of previously deficient tests as a result. The number of issues they've identified runs into the hundreds, which has helped us significantly improve the quality of every release in the process. They also process tests at an impressive rate.
QA Staff Augmentation
QualityLogic worked with this educational children's toy company to augment their QA staff with expert, flexible QA resources while they migrated from a hosted eCommerce solution to a site they developed and hosted, with the addition of customized mobile apps.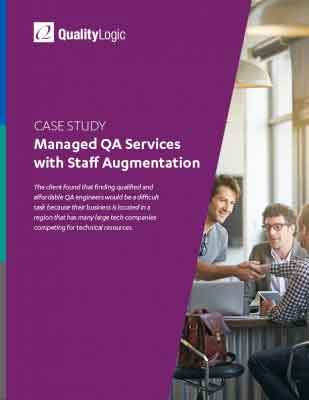 Safeguard Your Brand with Smart Software QA & Testing
Want to learn more about how our QA and testing services can safeguard your brand? Contact us to find out how we can improve your QA ROI.