Our Guarantee
QualityLogic's Software Testing Service Guarantee
We are passionate about helping companies release outstanding, high-quality software, and we stand behind our work 100%.
We Don't Rest Until You're Delighted
Since 1986, QualityLogic has been helping clients release top-of-the-line software and systems. We are so confident in our efforts that we guarantee your engagement with us will be successful – or we will make it right at our expense. We assure your satisfaction by staying well-grounded in work requirements, auditing our deliverables, validating timelines, and checking in with you frequently to make sure everything is on track and at the desired quality. Our single business focus is software quality, serving multiple industries with expertise in a wide range of technologies. Our diverse, longstanding experience enables us to deliver the QA services and test tools you expect.
We bring engineering depth to our software quality projects. QualityLogic has created industry standards of performance, compatibility, and interoperability for imaging, fax, and smart energy technologies. Our test services execution and management are second to none and we have the capability to stand up flexible on-shore teams that have an array of skill sets for software/system testing at our labs in Boise, ID, Simi Valley, CA, and Oklahoma City, OK.
Engaging with QualityLogic brings our team of experts to work on your project requirements using a carefully managed process:
Program definition
Scope requirements and skills
Formal proposal with project scope, deliverables, and pricing
Review, approval, terms of engagement, and deliverables
Establish the teams ranging from test technicians and QA Engineers with various skills to programmers, test architects, and program managers
Kick-off meeting and begin work process
Validate results
Daily reporting and weekly budget watch initiatives
Comprehensive final project report
We Guarantee It
We guarantee that our work efforts will meet your needs or we fix the problem at no charge. We check our deliverables frequently to ensure that we meet or exceed project control expectations. We report often and track expenditures to confirm on-budget performance or alert you early if there is a problem.
QualityLogic offers an excellent combination of project management and expertise. We stand squarely behind every program.
It's amazing that the QualityLogic team has been with us longer than our internal team members and actually ends up training our new QA engineers. Your low attrition greatly enhances QualityLogic's value to our DevOps.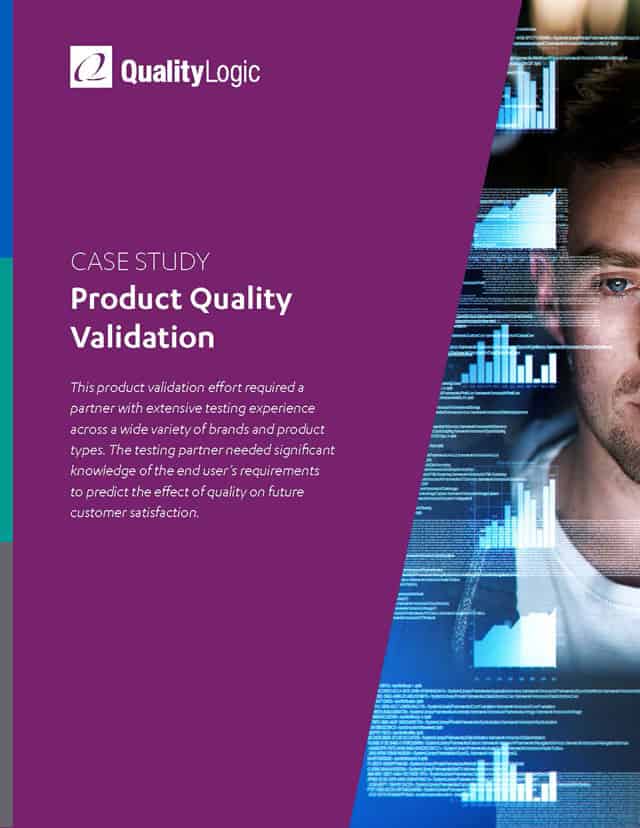 CASE STUDY
Validating Product Quality
Learn how we helped our client, a large international company with a long history of product innovation and market leadership, compare its quality not only against its own current and previous products, but against products throughout the industry.
Safeguard Your Brand with Smart Software QA & Testing
Want to learn more about how our QA and testing services can safeguard your brand? Contact us to find out how we can improve your QA ROI.