Social & Dating
Mobile and Web Testing Services to Perfect Members' Experiences & Grow Your Community
It takes constant innovation and diligence to keep users of social networks, dating websites, and related mobile apps happy and churn levels low. Your reputation relies on delivering content that creates a personable and reliable member experience. Your code has to be right the first time, every time. That's where QualityLogic's mobile and web testing for social and dating websites come in.
Keep Development on Track with QualityLogic Mobile & Web Testing for Social and Dating Websites
We Know Social
QualityLogic understands the constant demand of developing new code and features in your platform. Our QA labs and teams are experts at ensuring things like video, account and profile creation, and geographic services work flawlessly across all web and mobile device platforms.
QA Skill on Demand
Get highly skilled QA services that support development locations where capable test personnel are hard to come by.
Agile Compatible
Augment your Agile scrum teams with quick, efficient, flexible and cost-effective QA services available on short notice — with no change fees. QualityLogic QA engineers pinpoint defect causes and work directly with your development engineers to create fixes that work without causing collateral damage.
End-To-End Verification
Our test teams use real, personal credit card accounts to verify that purchases are accepted, processed and recorded through verification services into correct database entries.
Community as a Well-Orchestrated Business
System issues, however technical, become expensive intrusions on your members' experiences on social networking and dating sites. The goal is flawless operation in:
End-to-end interface, middleware, and database operation that is transparent to the user
Seamless interoperation with third-party services, such as credit card verification agencies
Marketing promotions implemented on short notice with multiple, widely interlinked target offers
Customer service that can find and correct any inaccuracy in members' transactions
Video and other sophisticated features that work the first time across a wide array of localized sites
I am extremely happy with the team I am currently working with! They are covering more work than I could have ever imagined and doing it with a very high level of quality.
Safeguard Your Brand with Smart Software QA and Mobile & Website Testing Services
Want to learn more about how our QA and mobile and website testing services can safeguard your brand? Contact us to find out how we can improve your QA ROI.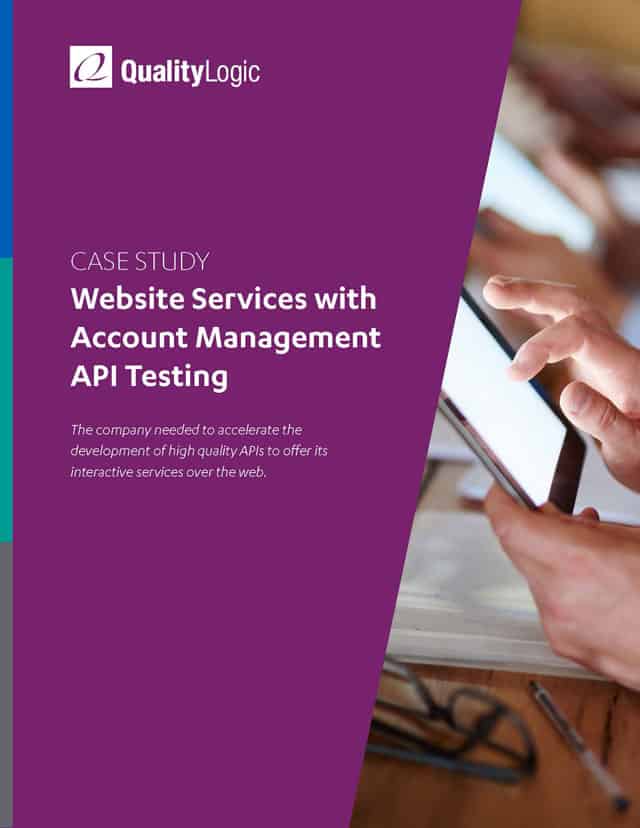 Case Study:
Peace of Mind-Inducing Operational Verification
QualityLogic worked with this developer of feature-rich eCommerce sites to perform operational verification of middle-ware functions, and troubleshoot defects to the modular and even code level. Our involvement from the start of the project was a key to its success.
Testing Solutions and Platforms for Social and Dating