Retail and eCommerce Testing and QA
eCommerce Website Testing and QA Services for Your Online Business
When you offer services and products through websites and mobile apps that can change hourly, you have to be fully up and functional 24/7. QualityLogic works with your development team to deliver problem-free experiences for your customers, from account creation through payment, and on to analytics to support future marketing efforts.
Working Hand-in-Hand with Your Development Group
Quality Engineering
QualityLogic's highly skilled QA engineers provide in-depth defect analysis and verification parameters, and work with your development team on processes and code fixes.
Rapid site change means eCommerce testing has to keep up. QualityLogic's QA engineers know which areas of your site will benefit from automated testing, which won't, and how to build and maintain the right mix of automated and manual testing.
For feature/content areas that don't support test automation, our skilled manual test team can scale on demand to cover your testing challenges and constraints — without change fees.
Processes & Facilities
QualityLogic works and integrates with your Agile teams at all levels, and we have a large array of mobile test devices and content delivery systems to support every test requirement.
Continuous Change, at an Ever-Increasing Pace
Web and app developers have to resolve issues in hours that take brick-and-mortar businesses months. To come out on top you must embrace change and maintain excellent quality. Top-notch eCommerce testing and QA is the only way to do that:
You need to implement new technology in your website and mobile apps without any functional or cosmetic glitches
Your marketing team must support online ad campaigns through direct access to site content controls
Customer interactions with your site and mobile app have to be handled quickly and efficiently
Website- and application-use analytics must be pertinent, usefully analyzed, and quickly reported so you get timely, actionable feedback
All aspects of site and mobile app functionality must be continuously monitored and verified
At first, our development team thought QualityLogic was overly picky or going too far into detail, but when the first engagement ended, our team asked for them to come back immediately because they knew how much value they added.
Safeguard Your Brand with Smart Software QA & eCommerce Testing
Want to learn more about how our QA and eCommerce testing services can safeguard your brand? Contact us to find out how we can improve your QA ROI.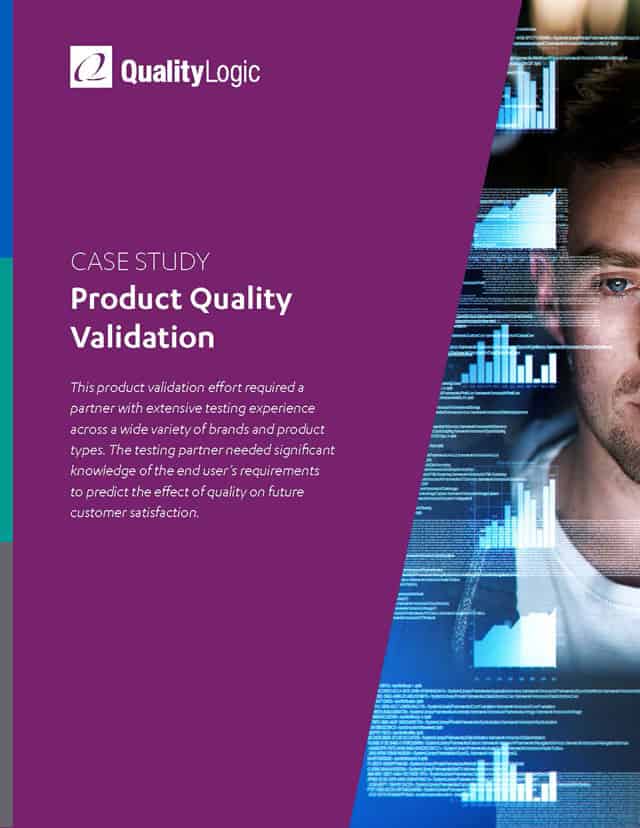 Case Study: Peace of Mind-Inducing Operational Verification
QualityLogic worked with this developer of feature-rich eCommerce sites to perform operational verification of middle-ware functions, and troubleshoot defects to the modular and even code level. Our involvement from the start of the project was a key to its success.
Testing Solutions and Platforms for Retail and eCommerce