Education & Nonprofits
Web and Mobile App Testing That Helps You Achieve Your Mission
An effective website and functional mobile apps are critical to enhance your connection with your audience. Multi-channel platforms help you engage and improve your relationship and experience with the public, but developing and maintaining software and learning platforms is complex, resource intensive, and expensive. QualityLogic understands that every dollar counts, and our QA team provides an efficient approach to higher quality website and mobile app testing.
Exceptional Software Testing Services for Educational and Non-Profit Organizations
The QA Experience You Need
We have extensive experience with QA for marketing and fundraising drives, social network integration, community groups, and registration.
Handle the Load
When you expect peak loads, either seasonally or from marketing initiatives, be sure your site can handle them. Our web and mobile app testing checks for degraded performance under high loads, as well as for maximum loads.
Test Automation
QualityLogic's QA engineers know which aspects of your site will benefit from automated testing, which won't, and how to build and maintain the right mix of automated and manual testing.
Testing from Your Users' Perspective
We verify that content accessibility, user interaction, control functions and third-party service APIs all operate flawlessly.
High Quality at an Affordable Price
Quality is critical, but maximizing funds dedicated to your mission is your priority. How do you balance these conflicting demands?
Your marketing team needs to conduct ad campaigns by direct access site content management
You want your website and mobile app to implement the latest attention-getting technology without any functional or cosmetic glitches
Visitor interactions with your site and mobile app have to be handled quickly and efficiently
Site and app use analytics must be pertinent, usefully analyzed and rapidly reported to provide you with timely, actionable feedback
All aspects of site and mobile app functionality must be continuously monitored and verified
What's always impressed me is the accuracy and thoroughness of their work and their flexibility. They help us make sure that we can walk into any page launch feeling confident that there aren't any issues that we don't know about.
Case Study: eCommerce Load Testing
This government agency's eCommerce website had difficulty supporting periodic high traffic periods. QualityLogic developed and conducted load testing in excess of its traffic estimates and uncovered problems with the credit card authorization service and site configuration. The problems were corrected and the site re-launch was an unqualified success.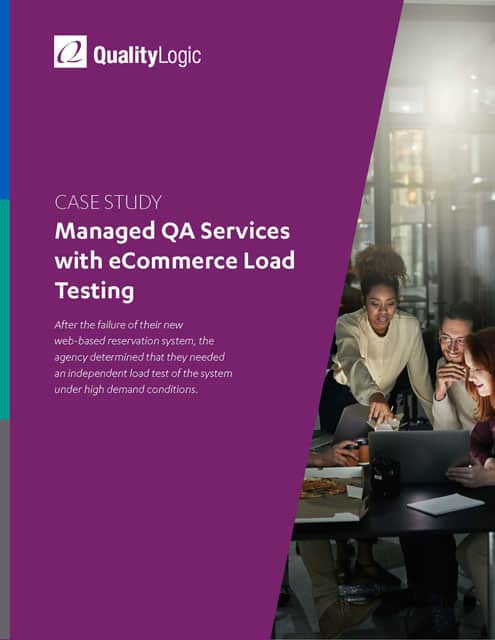 Safeguard Your Brand with Smart Software QA & eCommerce Testing
Want to learn more about how our QA and eCommerce testing services can safeguard your brand? Contact us to find out how we can improve your QA ROI.