Proven Digital Accessibility for Web, Mobile, and Software
Digital accessibility can seem challenging, but it doesn't have to be. Let our experts help you make your digital products and organization truly accessible.
Accessibility is a Basic Human Right
And it's great for your business too. With over one billion individuals living with a physical or cognitive impairment, it's critical to ensure your web and mobile products are accessible to everyone. Accessibility improves user experience, traffic, and revenue.
With expert guidance and support, let accessibility be another area in which your business excels.
Industry Leading Accessibility Services
Whatever the goal or next step of your company's digital accessibility journey, we can help get you there. And if you don't know what's next, we can help with that too.
Jumpstarting Accessibility
New to Accessibility? Get everything you need to start the process:
Free Digital Accessibility Starter Kit
Baseline Audit
Early-Stage Consulting
Integrated Teams
Turnkey support from digital accessibility specialists to keep your teams doing what they do best:
Design
Development
Testing
Coaching and Training
Compliance Documentation
Show evidence of accessibility compliance and document progress to communicate effectively to your users and mitigate legal risk:
VPAT
Accessibility Statement
Accessibility Commitment Letter
Accessibility Certification
Transformation
Invest in your organization's internal capabilities by making accessibility an integral and sustainable part of your teams:
Ongoing Monitoring
Organizational Training
Platform Evaluation and Selection
Consulting
Achieve Excellence with QualityLogic's Digital Accessibility Services and Consulting
True Inclusion
Real People
Support always includes individuals with physical or cognitive impairments and real users of assistive technology – feel confident that you're getting real feedback from real people.
Manual and automated.
You can't be compliant with tools alone. Get the best of both worlds with a blended approach that prioritizes a manual, people-first model.
Compliance and usability.
It's possible to build a product that is technically compliant but still challenging to use. That's why we help you achieve compliance and usability.
Expert Support
Clear explanations.
Accessibility can be complex. Our experts specialize in making accessibility clear, easy, and understandable.
Holistic approach.
Enjoy full-spectrum support across design, testing, remediation, and beyond.
Sustainable.
Retrofitting is expensive. Implement solutions not only for today but solutions for the future.
Driven By A Passion For Accessibility
Accessibility is important to all of us, but many teams don't know where to begin. Take the stress out of WCAG with our team's deep understanding of the requirements, best practices, and auditors with physical or cognitive impairments who know firsthand the challenges of an inaccessible website or application.
Choose a partner whose digital accessibility practice was founded as a passion first and a business second. We entered the world of accessibility through our Director of Engineering who, upon going blind back in 2010, wanted to turn his perceived "disability" into a way to help organizations like yours make their products more accessible. Since founding our practice, we have had the privilege of helping leading organizations provide an accessible experience to all of their users.
Connect with us today or watch our video on our accessibility philosophy and approach with customers.
Why Organizations are Choosing Accessibility
Making your products accessible is the right thing to do, but it also makes good business sense. Here are the top reasons organizations are investing in accessibility programs:
Increased Revenue and Market: WHO estimates there are over 1 billion people with a physical or cognitive impairment globally. The discretionary income of US people with disabilities is $200 billion and the global disability market is nearly $7 trillion (W3C). By embracing digital accessibility, organizations can provide services and products to a previously unavailable market and truly grow. Accessibility is more frequently becoming a requirement for contracting with large enterprises, governments, and other organizations, so organizations who prioritize accessibility will see more opportunities.
Differentiation: Digital accessibility can be a great unique differentiator for your platform or organization. By 2023, digital products that are fully WCAG 2.0 compliant are estimated to outperform their market competitors by 50% (Brent Stewart, Senior Director Analyst at Gartner).
Great for SEO and Web Traffic: SEO benefits significantly from accessibility practices and include techniques like alt text, clearly identified and labeled information, logical ordering, and more. This helps to boost page ranking on search engines like Google and drive increased traffic to your websites and applications.
Minimize Legal Risk: In most regions accessibility is a legal requirement. Avoid costly and time-consuming legal action by making your website, application, or software accessible.
Better User Experience: The hallmark of an accessible experience is a simple, intuitive design and workflow. This makes the overall user experience more engaging and impactful for all, not just those using assistive technology.
Ready to Meet? Let's Talk!
We were immediately impressed by [QualityLogic's] skillset, communication, and support of their compliance testing. On top of that, they continued to support us in our efforts to get our site compliant and showed us patience and a lot of support!
Testing Your Site's Compliance
We monitor current market trends in the accessibility world to ensure we are using the most popular assistive technologies – and those that are growing in popularity – to ensure your website can be used by all. And while we test WCAG 2.1 AA and AAA and ADA Section 508, we provide a higher testing standard than mere compliance when we audit a site. We provide usability advice and offer enhancement recommendations to ensure the site is not only compliant, but also a pleasure to use.
Our website accessibility audit teams include visually-impaired QA engineers who know firsthand what is required for a website to be truly accessible. Our expertise includes:
JAWS, NVDA, and Voiceover Screen Readers
ZoomText and MAGIC screen magnification
Dragon NaturallySpeaking, Microsoft Narrator, Android Talkback
WAI-ARIA Suite
Looking for something not listed? Contact us – we may already be using it.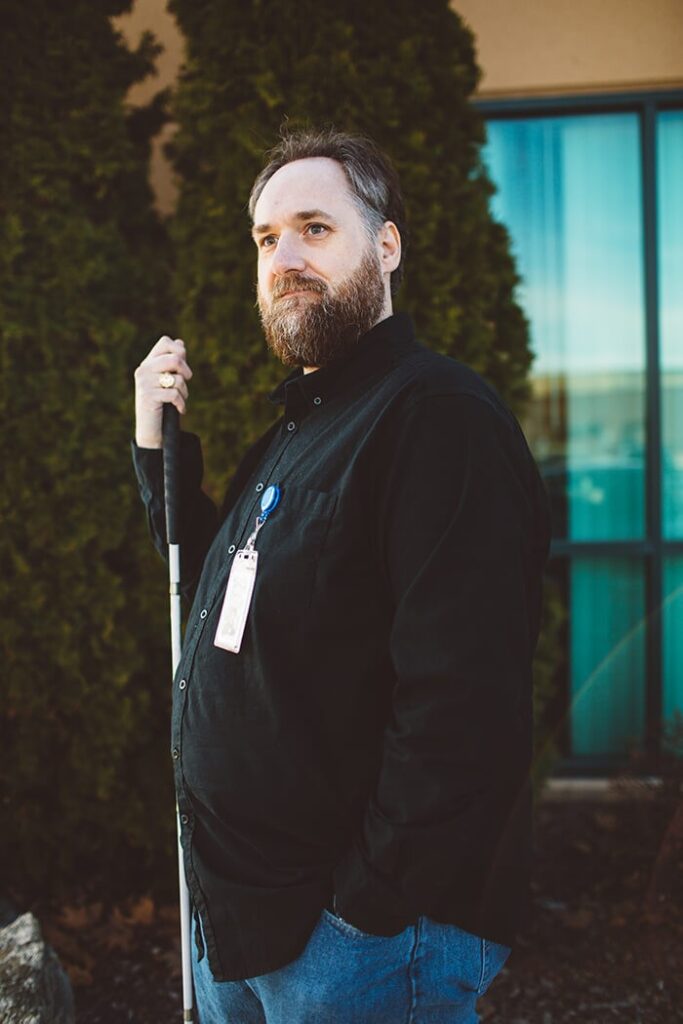 In-Depth Digital Accessibility Support
Over one billion individuals live with a physical or cognitive impairment, so it's critical to ensure your web and mobile products are accessible to everyone. Accessibility improves user experience, traffic, and revenue. Plus, it's just the right thing to do.
With expert guidance and support, let accessibility be another area in which your business excels.
Download Your Free Accessibility Case Study
When an international educational resources provider came to QualityLogic for their testing needs, they needed a partner who could test their tools for bugs AND accessibility. This case study highlights the value of ensuring your website and software is accessible for all users.
Complete the form below and we'll send you this free website accessibility case study, or give us a call at 208.424.1905 if you'd like to learn more about how QualityLogic can help your organization!
What to Expect with Website Accessibility Testing
Automated Testing
Automated scanning tools only catch 30-40% of possible accessibility issues, so we use automation as an initial smoke test to identify missing alt text, contrast issues, or other defects which can be programmatically validated. We then focus on manual testing to give you a full understanding of your product's accessibility.
Remediation
Once testing is complete, you'll receive an accessibility compliance reporting containing a requirement-by-requirement breakdown of your compliance and a detailed listing of all identified issues. Our team provides remediation guidance and support to help your product get accessible, then also provides re-testing to validate your fixes.
Manual Testing by Real Users
Your website is audited for both WCAG (or similar standard) compliance and usability leveraging individuals with real physical or cognitive impairments and real users of assistive technology. Testing is performed using a variety of platforms and assistive technology to best understand the issues affecting your users.
Accessibility Certification
Once your web application or website is fully compliant, QualityLogic can provide independent certification and attestation that can be shared with user and partners. Our team can also provide ongoing web monitoring solutions to ensure your product remains compliant.
Make an Impact
Accessibility isn't just a requirement, it's an opportunity. Connect with us today and explore how we can help your teams overachieve with digital accessibility.
Learn more about how we work with you.
Check out these resources on accessibility testing
Frequently Asked Questions About Digital Accessibility
What is Digital Accessibility?
Digital accessibility is the practice of making digital products, such as websites, web applications, or mobile applications, accessible to individuals with physical or cognitive impairments or who use assistive technology to interact with content. This may include individuals with vision impairment using a screen reader to listen to content instead of viewing it or a person who is hard of hearing using captions to read content in a video.
What is a VPAT?
VPAT stands for Voluntary Product Assessment Template. A VPAT is a report which provides a requirement-by-requirement breakdown of a product's accessibility compliance to standards like WCAG, Section 508, and EN 301 549. The VPAT report was authored by the US Federal Government and is quickly becoming the industry standard for accessibility compliance reports.
How often should I get an accessibility audit?
To ensure your products are accessible, we recommend making accessibility a typical part of your software development process, from design to development and testing. Audits should be performed around major releases or changes and will differ depending on your release schedule. Most companies perform audits for each new product release and on an annual or bi-annual basis for existing products.
How do I find testers with disabilities?
Accessibility service providers like QualityLogic include individuals with physical or cognitive impairments and real users of assistive technology as a core and essential part of their team. QualityLogic incorporates this real feedback across design, testing, consulting, and similar support activities. Alternatively, we recommend reaching out to state or federal agencies like Vocational Rehabilitation, non-profits like National Federation for the Blind, or working with Disability Service groups within colleges and universities. There also exist a handful of popular accessibility job boards that can be used.
What are the different Digital Accessibility Laws?
Digital accessibility laws vary by whether they focus on discrimination of individuals with disabilities, of which digital content is a component, or whether they specifically address digital accessibility. A list of prominent accessibility laws and standards can be found here.
Why is digital accessibility important?
Digital accessibility practices provide a way for everyone to have equal access to information and digital content, something increasingly critical as much of our lives goes online. Regardless of physical or cognitive impairment, you should have equal access. Beyond that, digital accessibility practices have many secondary benefits for organizations, including opening up new markets (with the more than one billion people who have a physical or cognitive impairment), improving usability for everyone, differentiating your product or service versus others, and more. Accessibility is great for your organization and your users.
What is digital accessibility testing?
Digital accessibility testing is the practice of testing websites, web applications, mobile applications, or similar digital products to verify that they are accessible to individuals with physical or cognitive impairments and can be accessed fully using assistive technology. Digital accessibility cannot be tested for accurately with the use of tools alone and requires manual testing since much of WCAG is subjective and dependent on human judgment.
The most effective way to test for digital accessibility is through a combination of automated and manual testing. For manual testing, it's critical to test using assistive technologies that users interact with and to include individuals with physical and cognitive impairments in the testing process.
How do I measure digital accessibility?
Digital accessibility can be measured based on compliance with success criteria in the Web Content Accessibility Guidelines (WCAG). Passed or failed success criteria can be documented in industry-standard Accessibility Conformance Reports, such as a Voluntary Product Assessment Template (VPAT) or WCAG report. Documents like Accessibility Conformance Reports or software like scanning/monitoring tools can illustrate accessibility progress over time. It is worth noting with software tools that due to the efficacy of automation only identifying 30-40% of possible accessibility issues, manual testing is required to accurately document accessibility over time.
Is WCAG 2.1 a legal requirement?
WCAG 2.1 is a legal requirement in some regions, such as the European Union through EN 301 549. Most regions, such as the United States, Canada, and others, still point to WCAG 2.0 as the legal requirement for accessibility.
How do I check my WCAG compliance?
WCAG compliance can be checked using a combination of automated and manual assessment practices. Automated tools catch approximately 30-40% of accessibility issues and can scale effectively across many pages. For the remaining issues, due to the subjective nature of the WCAG, your product must be assessed manually, especially using the assistive technology or techniques that real users would use and ideally including individuals with physical or cognitive impairments in the testing process. Checking your own WCAG compliance can be complicated, but an accessibility testing provider like QualityLogic can make it easier.
How do I get WCAG certified?
QualityLogic offers WCAG certification for websites and web applications to organizations that undergo a WCAG audit and pass fully. This includes both automated and manual testing. WCAG certification is then maintained by ensuring that all new code changes or features are audited for compliance, that content is scanned for any potential accessibility issues, then the discovered issues must be fixed.
What is the difference between WCAG and Section 508?
Web Content Accessibility Guidelines (WCAG) is an international set of guidelines for making web content accessible. Section 508 is an amendment to the Rehabilitation Act of 1973 which requires that US federal agencies make the electronic content and information technology accessible to individuals with disabilities. Section 508 requires compliance to WCAG 2.0 AA.
What is the difference between WAI and WCAG?
WAI stands for Web Accessibility Initiative, which is the group responsible for developing the Web Content Accessibility Guidelines (WCAG). WAI is part of the World Wide Web Consortium (W3C), an international standards organization for the World Wide Web.
What are WCAG success criteria?
WCAG success criteria are testable statements used to show that web content either does or does not conform to WCAG. Success criteria are organized into three levels of conformance: A (lowest), AA, and AAA (highest). Success criteria are written for each WCAG guideline, which are goals creators of digital content should work toward, and these guidelines are based on the four principles which ground WCAG as a whole: perceivable, operable, understandable, and robust (POUR).
What are WCAG guidelines?
WCAG guidelines are the objectives that digital content creators should work toward. These are based on the four key principles of web accessibility: perceivable, operable, understandable, and robust (POUR). The guidelines are not themselves testable, so each guideline has specific testable statements underneath them, called success criteria.
What are the four principles of WCAG?
The four principles of WCAG and web accessibility are Perceivable, Operable, Understandable, and Robust (POUR). Perceivable means that information can be perceived by a person's senses. Operable means that the user has a way to interact with or operate the interface provided. Understandable means that the information or interface must be presented in a way that allows the user to understand it. Robust means that the content must be sufficiently robust to where different user agents, like assistive technology, web browsers, media players, and more, can reliably interpret it.
These principles are the basis for the WCAG guidelines and their specific testable criteria, called success criteria.
What does WCAG apply to?
Web Content Accessibility Guidelines (WCAG) applies to digital information (e.g., text, images, audio, videos) and code or markup. This may include websites, web applications, mobile applications, or other forms of software.
WCAG is part of a collection of three standards, the others being User Agent Accessibility Guidelines (UAAG) and Authoring Tool Accessibility Guidelines (ATAG). UAAG deals with accessibility for user agents, such as web browsers, media players, assistive technologies, or other software, which is used to access content. ATAG deals with tools which users leverage to create content, ensuring that the tools themselves are both accessible as well as provide users with a means to create accessible content. Together, WCAG, UAAG, and ATAG cover all facets of digital accessibility: content, creation of content, and access of content.
Is WCAG applicable to mobile apps?
Yes. WCAG is applicable to mobile apps. WCAG applies to digital information like text, images, audio, and videos, as well as code or markup.
Can accessibility testing be automated?
A portion of accessibility testing can be automated, but not all. Automated accessibility tools only identify a total of 30-40% of potential issues. As much of the Web Content Accessibility Guidelines (WCAG) are subjective, it requires human judgment to determine if content is compliant. Beyond that, even content that is technically compliant with WCAG may still be challenging to use by an individual with a physical or cognitive impairment, so the guidelines are a useful foundation for accessibility but not sufficient. Accessibility testing should always include manual testing, particularly including individuals with physical and cognitive impairments or those who use assistive technology as part of their daily lives.
Do I need an accessibility statement?
Accessibility statements may be legally required depending on your region. Beyond that, accessibility statements clearly communicate to users the state of your content's accessibility, provide users with a way to get in touch with any accessibility issues, and show that you care about them. For this reason, we highly recommend including an accessibility statement.
Need more information? Let's schedule a free consultation!