From Chemist to QA Engineering Manager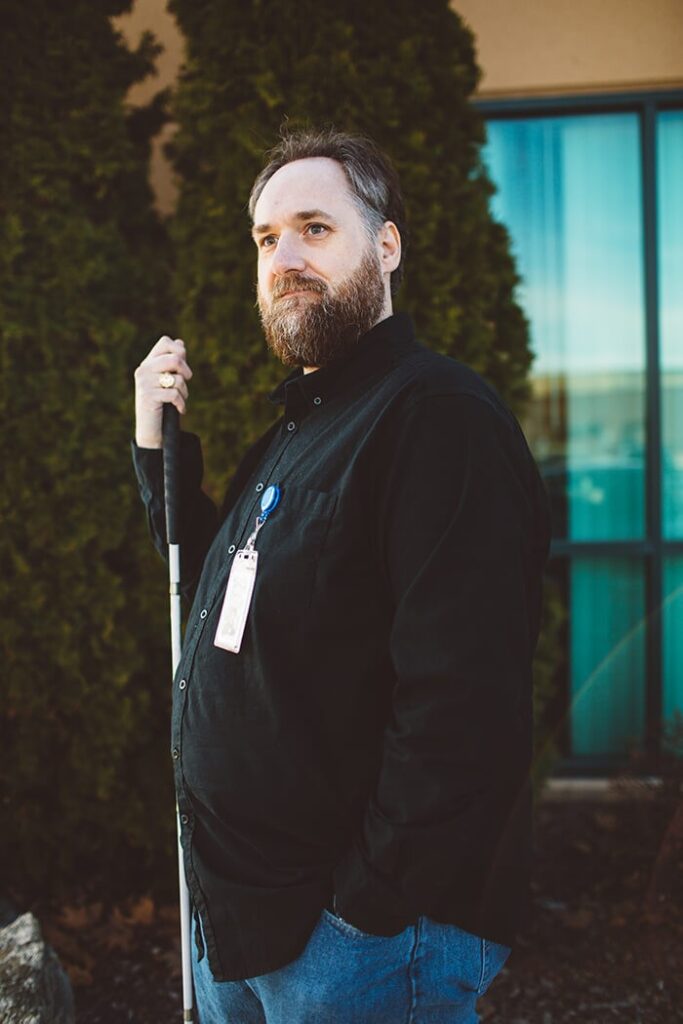 A few years into his career as a chemist with the United Kingdom's laboratory of the Government Chemist in the mid-90s, Paul Morris noticed he was having issues with his eyesight. After a series of consultations with his physician, he was diagnosed with retinitis pigmentosa, a genetic disorder of the eyes that eventually causes the loss of vision. The physicians believed Paul's sight would slowly deteriorate, so they predicted he would maintain much of his vision through his 50s or even 60s.
However, Paul's condition turned out to be more severe than initially believed, and soon his vision had declined to the point where he could no longer work in the chemistry lab. Uncertain about his future, he transferred departments and began work as an administrator for the UK Ministry of Defence. He purchased his first personal computer and began teaching himself how to code. During this time, he also began to talk online with a fascinating woman in the United States.
A NEW CAREER IN THE US
After moving from the UK to the US in 1999 and marrying his bride, Paul began searching for a new job stateside. The second job he applied for was as an entry-level test technician for QualityLogic. Shortly after his interview, he was offered the job and he began work in the company's Boise, Idaho office.
Paul's eyesight continued to deteriorate, but he was determined not to let it get in the way of work. He quickly expanded his technical skills; the fundamentals of testing and coding came naturally to him and he found he had an intuitive understanding of how the technology should work. His talent and hard work led to him earning more responsibility and promotions, and soon Paul was a QA project manager for QualityLogic.
In 2006, Paul's vision had reached a point where he felt he would benefit from the use of some assistive technologies. He submitted a request to his manager and was provided with JAWS, a screen reader developed by Freedom Scientific that provides speech and Braille output for computer applications.
Paul was able to pick up the use of the new technology almost instantly and began to expand his technical skills even further. While using JAWS, he taught himself how to program in Ruby, JAVA, Python, and became a SQL administrator. During this time, he also realized that many websites and software were not set up for the use of the assistive technologies he now required.
A PASSION FOR EXCELLENCE
Over the next several years, Paul continued to expand his programming and QA testing skills and began to help QualityLogic clients identify ways to adapt their software and technologies to be able to be used by all individuals. His passion for delivering exceptional work to clients propelled Paul into his current role as QualityLogic's Director of Engineering and Accessibility Test Services.
Over the years, Paul has continued to bring additional QA testers and engineers on board who are just as passionate about accessibility testing for software and websites. Together, they comprise one of the most qualified QA and accessibility testing teams in the country and have worked with some of the most recognized and influential brands in the world.
Though Paul's career trajectory took an unexpected turn, he has never let the loss of his vision dictate his life. In fact, he's used the lack of sight to create new opportunities for himself and for the blind community. Today, Paul continues to test new technologies and brings his innovative approach to the QualityLogic leadership team and the community as a whole.
Interested in How QualityLogic Can Help Your Team? Let's Talk!