Imaging & 3D Printing
3D Printing & Digital Imaging Software Testing Tools and Services
Digital image generation and processing run the gamut from standard printer and multifunction products to revolutionary technologies that allow CGI for quality analysis, image transmission around the world, and "printing" objects using 3D graphics. The common denominator? Verification via imaging software testing is essential. That's where QualityLogic comes in.
Imaging System Quality is Our Business
Rendering System Tests
We are recognized as industry experts at testing page description languages, image file rendering and data file format implementation, as well as printing interface interoperability.
Printing Performance
QualityLogic created the industry standard printer throughput test system, PageSense, and has worked extensively with measuring and verifying printer consumables usage.
Our Application Test Suites verify the operation of all major design and office suite products with commercial and consumer print rendering systems.
3D Printing
3D Manufacturing Format (3MF) has emerged as the standard for 3D imaging, and we've developed imaging software test utilities and conformance test suites to validate successful parsing and rendering of 3D formatted input streams.
Digital Imaging Requires Precision
Image rendering, negotiating image transmissions, and especially 3D printing technologies involve the development and verification of complex software systems. Some of the challenges include:
Implementation of Page Description Languages (PDLs), image formats and the 3D Manufacturing Format (3MF)
Accurate image communications through computer interfaces and digital transmission systems
Data throughput and image rendering performance verification
Interoperability between drivers, PDLs, data file formats and image rendering systems
Usage rates and durability of consumables
The QualityLogic Lab provides us with the assurance that our products will work when they hit the market. Our customers have a very satisfactory experience with our products and come back for more.
Safeguard Your Brand with Smart Software QA & Testing
Want to learn more about how our QA and testing services can safeguard your brand? Contact us to find out how we can improve your QA ROI.
CASE STUDY
Marketing Claims Validation
As a well-respected, independent source, QualityLogic tested and validated this billion-dollar market cap company's marketing campaign claims. QualityLogic's reputation as a testing leader enhanced the credibility and effectiveness of these claims.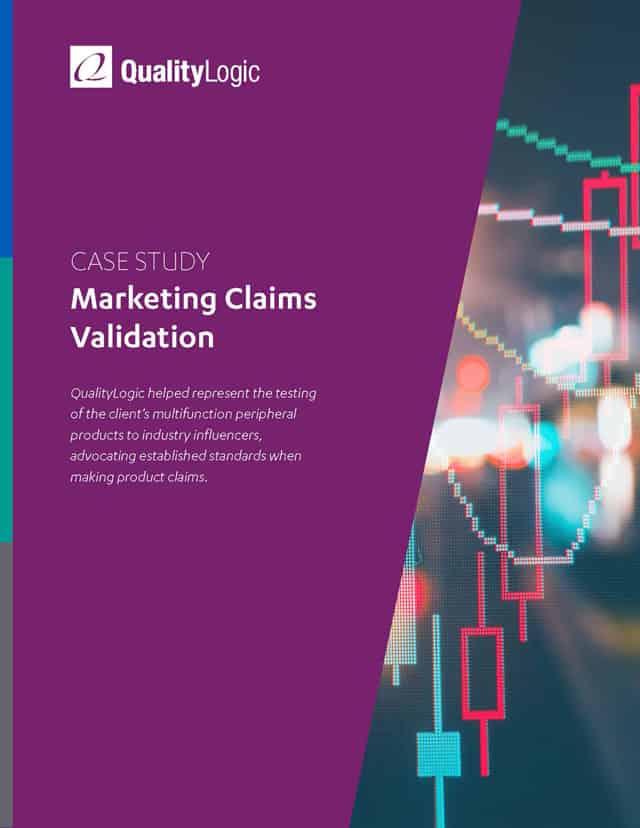 Testing Solutions and Platforms for Imaging and 3D Testing