DataProbe T30 Analyzer
In-Depth Fax Protocol Analysis for R&D, QA and Field Service
DataProbe T30 Fax V.34 Protocol Analyzer lets you isolate fax interoperability problems quickly with passive monitoring and protocol analysis capabilities.
DataProbe T30 Analyzer is a multi-node communication channel test tool that provides fax protocol analysis for R&D, QA and field service personnel. You can isolate fax interoperability problems quickly with DataProbe T30 Analyzer's passive monitoring and protocol analysis capabilities.
When used with QualityLogic's FaxLab (sold separately), DataProbe T30 Analyzer can generate traffic with known characteristics and varying loads to test fax systems. The product's distributed hardware architecture simplifies the task of performing end-to-end testing of facsimile communication systems and quickly identifies problems caused by the communications network infrastructure.
Product Configuration
DataProbe T30 Analyzer is a software application that runs on Windows operating systems. Traffic monitoring is done by a self-contained hardware device called a DataTrap. DataTraps monitor facsimile traffic for detailed analysis. The DataTrap can sit between a fax or telephony gateway unit and an analog interface to the public telephone network or analog switch to monitor and report the communications between the originating and answering fax units.
DataProbe T30 Analyzer software can control one or more DataTraps over TCP/IP. DataTraps connect to the device or network under test via standard RJ-11 telephony connections. Traffic generation is done through the use of one or more ChannelTraps used by FaxLab to originate and answer fax calls in the same manner as DataProbe T30 Analyzer controls DataTraps.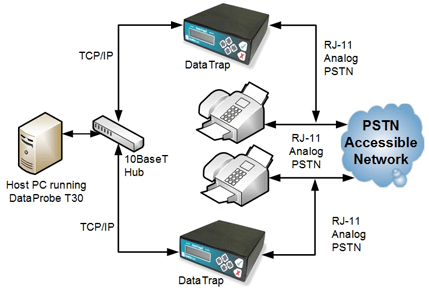 DataProbe T30 Analyzer has an elegant, easy-to-use interface that displays all captured facsimile protocol data and message content. From a high-level view, you can quickly drill down to the bit level. The dynamic ITU-T T.30 help window explains signals, data formats, and byte descriptions, that dramatically aid understanding a call error in relationship to fax standards.
With FaxLab, DataProbe T30 Analyzer can provide configurable fax transmission characteristics, play specific test scenarios and report protocol violations.
End-to-End Transmissions
Facsimile calls can be corrupted or degraded as they pass through complex digital and/or analog networks. This can occur as the result of timing delays, dropped packets, or other network anomalies.
DataProbe T30 Analyzer used with FaxLab can control multiple DataTraps and ChannelTraps to create an end-to-end test system that plays both the originating and answering parties in fax sessions. This configuration monitors each call and provides T.30 analysis at all modulations, including V.34. This system identifies protocol violations, fax message degradation and timing errors that result from network signal transport.
Isolating Fax Traffic Volume Problems
Communication servers, routers, and other system software can fail when subjected to high volumes of fax traffic. To isolate this type of failure, use DataProbe T30 Analyzer with FaxLab for control of multiple DataTraps and ChannelTraps to generate, monitor and capture fax traffic.
DataProbe T30 Analyzer and FaxLab can be used to generate and monitor fax traffic sufficient to exercise a T1 line (requires sufficient ChannelTraps and DataTraps to stimulate and monitor each channel). DataTrap/ChannelTrap units can be distributed in a variety of locations to realistically simulate traffic patterns.
Fax Protocol Analysis for Field Service
You can easily ship a DataTrap unit or DataTrap/ChannelTrap pair to a site that is encountering a problem, then isolate that problem with DataProbe T30 Analyzer from the home office via a TCP/IP connection(s) to the DataTrap/ChannelTrap. DataTraps and ChannelTraps are easy to ship and set up for fax protocol analysis at remote sites and can dramatically reduce your support travel costs.
DataProbe T30 Specifications
Ordering Information
T5002.5-K DataProbe T30 Analyzer Kit includes the following:
DataTrap Key for T30
DataTrap 2
To create a DataProbe T30 End-to-End configuration, add:
T5002.5-KEY: DataTrap Key for T30
F3002-T: DataTrap 2
DataProbe T30 Analyzer Facsimile Capabilities
Support for 2003 ITU-T T.30 Recommendation, including passwords, sub-addressing and use of V.34 modulation
Facsimile call monitoring, up to 33.6 kbps (with a single DataTrap)
Post-call analysis of T.4, T.6, T.30, T.81 and T.85 conformance\HDLC frame analysis and data decoding
T.4, T.6, T.81 and T.85 (MH, MR, MMR, JBIG, JPEG) data decoding and data display at all T.30 supported resolutions
Bitmap viewer for page content
DataTrap Characteristics
Monitor/capture facsimile calls
External control connection via TCP/IP
Software configurable
Browse for DataTraps over IP network
Status display for connected DataTrap units
Operational Parameters
Linear power supplies are provided and required to be used with DataTraps to maintain low noise levels for DataProbe's operation
DataProbe T30 Analyzer records a Post-Detection Signal to Noise Ratio (PDSNR) and displays a graph in the Detailed view. While PDSNR values of 28dB to 30dB will usually allow page decoding, its optimum value is 30dB or above.
The suggested input power level for V.34 Partial Pages is -13dBm
DataProbe T30 Analyzer performs all timing analyses at a resolution of 30ms
Minimum host computer system requirements:

PC with 2GHz processor clock speed minimum); Intel Core 5 and above
Microsoft Windows Windows 7 Pro 32- or 64-bit, or Windows 10 32- or 62-bit operating system (English versions)
4 GB of RAM
50 GB of available hard disk space
1280×1024 or higher-resolution video adapter and monitor
DVD-ROM drive
Keyboard and mouse or compatible pointing device
At least one RJ-45 Ethernet port for DataTrap connection
An additional RJ-45 Ethernet connection is useful for IP data collection
Need full T.30 and T.38 analysis? Then check out QualityLogic's DataProbe T30-T38 Analyzer.
Fill out the form below to find out more.
Get to the Bottom of Your Fax Problems.
Contact us today for more information.