DataProbe T30-T38 Analyzer for Fax Over IP Analysis
T.30 and Fax over IP Analysis with V.17, V.34, G.711, and T.38 Comparative Analysis
DataProbe T30-T38 Analyzer passively monitors and analyzes active fax sessions over analog and digital networks. It provides full T.30, T.38, and G.711 conformance and Fax over IP analysis.
Analog and Fax over IP Analysis
DataProbe T30-T38 monitors fax calls at analog and IP levels, compares the details of the T.30 to T.38 (or RTP/G.711) and back transform, and provides expert analysis of the results with error detection and tracking. DataProbe T30-T38 Analyzer is a powerful tool that passively monitors and analyzes active fax sessions over analog and digital networks. It provides full T.30, T.38, and G.711 conformance and Fax over IP analysis.
What the DataProbe T30-T38 Analyzer Does
Pinpoints fax problems by passively monitoring calls with just a few clicks of a mouse
Monitors fax calls between fax terminals over existing carrier installations to capture and troubleshoot problems as they occur
Facilitates direct comparisons of T.30 PSTN messages against T.38 and RTP/G.711 FoIP gateway transitions in SIP managed calls
Saves time in troubleshooting interoperability problems through an easy-to-use Windows-based test tool
Provides a measure of the modulation quality of received T.30 fax messages
Exports and imports .wav sound files for audio editor analysis of connection quality and T.30 analysis of call data captured as sound recordings
Exports and imports .pcap WireShark data capture files of IP transported fax calls and analyzes their T.38 and G.711 contents with the ability to parse them as T.30 message lists
Allows adjustment of input level for analog data capture and address selection for IP data capture.
Captures data at the end of an IP monitoring session to record SIP pipe closure activity.
DataTraps are controlled over the Internet and can be located at the PSTN connection they are to monitor while being controlled remotely from any location with an IP connection
DataProbe T30-T38 Analyzer Architecture
DataProbe T30-T38 Analyzer is a software application that runs on any Windows 10, 7 Pro, Vista Pro, or XP workstation.
Traffic monitoring is performed by self-contained DataTraps and a Network Interface Card (NIC) installed in the DataProbe host computer. The DataTraps monitor T.30 analog facsimile traffic for detailed analysis. The NIC detects and records SIP, T.38, and RTP/G.711 IP traffic.
DataTraps can connect between a fax or telephony gateway unit and an analog interface to the public telephone network or analog switch to monitor and report the communications between the originating and answering fax units.
This multi-node communication channel test tool helps R&D, QA and field service personnel isolate facsimile operational problems quickly with passive monitoring and protocol analysis capabilities.
End-to-End Transmissions
Facsimile calls can be corrupted or degraded as they pass through complex digital and/or analog networks. This can occur as the result of timing delays, dropped packets, or other network anomalies.
The DataProbe T30-T38 Analyzer with QualityLogic's FaxLab can be used to control multiple DataTraps and ChannelTraps to create an end-to-end test system that plays both the originating and answering terminals in fax sessions that are sent across such complex networks.
The system monitors each call, providing T.30 analysis at all modulations: V.34, T.38, RTP/G.711 analysis, including the SIP protocol. This system identifies protocol violations, fax message degradation and timing errors that result from network signal transport.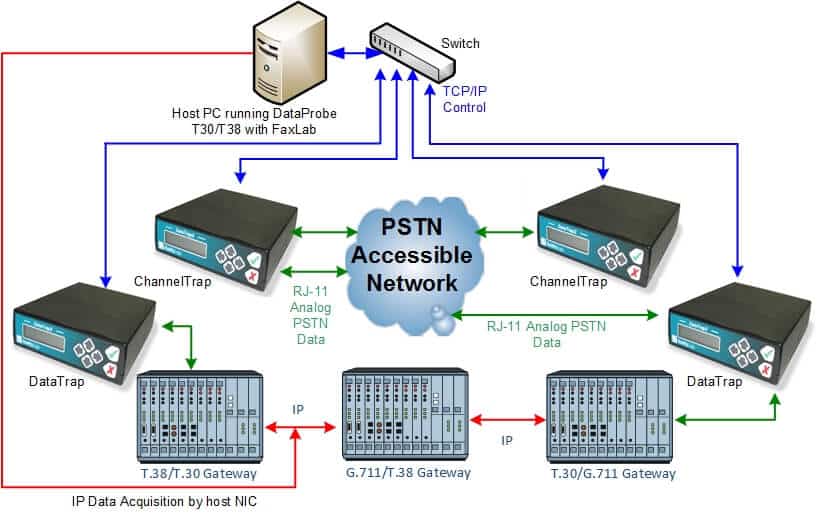 Isolating Fax Traffic Volume Problems
Communication servers, routers, and system software can fail when subjected to high volumes of fax traffic. To isolate this type of failure, DataProbe T30-T38 Analyzer with FaxLab controls pairs of ChannelTraps and DataTraps to generate, monitor and capture fax traffic, while a host computer NIC captures FoIP traffic.
DataTrap/ChannelTrap units can be distributed in a variety of locations to realistically monitor and simulate traffic patterns. This level of Fax over IP analysis gets to the bottom of your FoIP issues.
Viewing Captured Data
The screens below show a single G.711 based call captured and viewed in three different ways: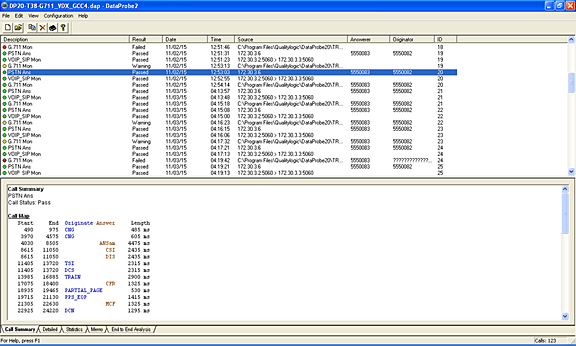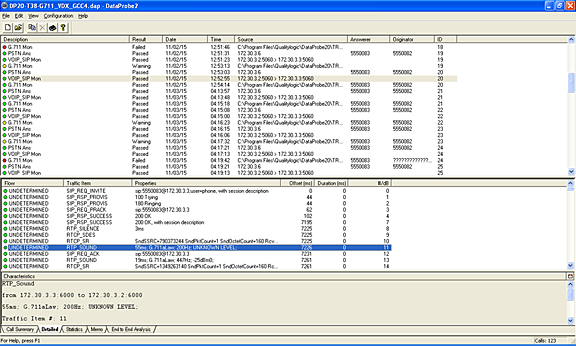 Specifications
T.30 Facsimile Capabilities
Support for 2003 ITU-T T.30 Recommendation, including passwords, sub-addressing and use of V.34 modulation
Facsimile call monitoring, up to 33.6 kbps (with a single DataTrap)
Post-call analysis of T.4, T.6, T.30, T.81 and T.85 conformance
HDLC frame analysis and data decoding
T.30 help system
T.4, T.6, T.81 and T.85 (MH, MR, MMR, JBIG, JPEG) data decoding and data display at all T.30 supported resolutions
Bitmap viewer for page content
T.38 IP Capabilities
Recording and reporting the content and structure of the call-control protocol used during a fax call (SIP, ASN.1)
Recording T.38 packets (V0 – V2) as they arrive at or are generated by the same gateway during its handling of a fax call (T.38, UDP, RTP, UDPTL – packet redundancy)
Relating these messages and packets by their contents and times of arrival/generation
Correlating, analyzing and reporting the content and structure of both T.30 messages and T.38 packets
Providing error expert analysis of the T.38 content and correlation to T.30 content
RTP/G.711 Capabilities
RTP/G.711 Analysis: Direct capture and analysis of RTP/G.711 packets (fax pass-through mode). This feature lets you analyze this popular IP fax pass-through mode and troubleshoot problematic fax issues related to this type of fax transmission mode.
Direct T.30 Decoding for G.711: Automatically reassembles audio data from RTP/G.711 packets and analyzes it for T.30 conformance, including the best of breed T.30 analysis that is core to the DataProbe Analyzer product.
Automatic Call Grouping for G.711, T.38, and T.30: Automatically performs heuristics based on the incoming call data and groups associated calls into a single identifier in its Call List Window. A new call type for G.711 is used to denote G.711 call data.
RTP/G.711 analysis, including µ-law and A-law
Direct T.30 decoding for G.711
Automatic call grouping for G.711, T.38, and T.30
DataTrap Characteristics
Monitor/capture facsimile calls
External control connection via TCP/IP
Software configurable
Browse for DataTraps over IP network
Status display for connected DataTrap units
Operational Parameters
Linear rather than switching power supplies are provided and required to be used with DataTraps to maintain low noise levels for DataProbe's operation
DataProbe T.30/T38 Analyzer records a Post-Detection Signal to Noise Ratio (PDSNR) and displays a graph in the Detailed view. While PDSNR values of 28dB to 30dB will usually allow page decoding, its optimum value is 30dB or above.
The suggested input power level for V.34 Partial Pages is -13dBm
DataProbe T.30/T38 Analyzer performs all timing analyses at a resolution of 30ms
Minimum host computer system requirements:

PC with 2GHz processor clock speed minimum); Intel Core 5 and above
Microsoft Windows Windows 7 Pro 32- or 64-bit, or Windows 10 32- or 62-bit operating system (English versions)
4 GB of RAM
50 GB of available hard disk space
1280×1024 or higher-resolution video adapter and monitor
DVD-ROM drive
Keyboard and mouse or compatible pointing device
At least one RJ-45 Ethernet port for DataTrap connection
An additional RJ-45 Ethernet connection is useful for IP data collection
Want a quote or more information on DataProbe T30-38 Analyzer?
For a quote or more information on DataProbe T30-T38 Analyzer, Fax over IP analysis, and QualityLogic's other testing products, fill out the form and we'll get back to you asap!